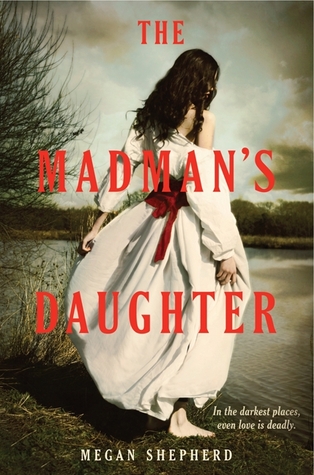 ---
4 stars
This review contains spoilers so please don't read if you haven't read this.
Goodreads description: Sixteen-year-old Juliet Moreau has built a life for herself in London—working as a maid, attending church on Sundays, and trying not to think about the scandal that ruined her life. After all, no one ever proved the rumors about her father's gruesome experiments. But when she learns he is alive and continuing his work on a remote tropical island, she is determined to find out if the accusations are true.
Accompanied by her father's handsome young assistant, Montgomery, and an enigmatic castaway, Edward—both of whom she is deeply drawn to—Juliet travels to the island, only to discover the depths of her father's madness: He has experimented on animals so that they resemble, speak, and behave as humans. And worse, one of the creatures has turned violent and is killing the island's inhabitants. Torn between horror and scientific curiosity, Juliet knows she must end her father's dangerous experiments and escape her jungle prison before it's too late. Yet as the island falls into chaos, she discovers the extent of her father's genius—and madness—in her own blood.
Inspired by H. G. Wells's classic The Island of Dr. Moreau, The Madman's Daughter is a dark and breathless Gothic thriller about the secrets we'll do anything to know and the truths we'll go to any lengths to protect.
---
This was disturbing as hell but, still, I loved it!
I haven't seen nor read The Island of Dr. Moreau but I still went in reading this book. I didn't know a lot about it but what I knew made me want to read it so much especially in the spooky month of October.
As a future biologist (at least I hope so lol) this book made things like vivisection and how biologist did things before a little closer to me. It was gruesome and all things inside are really non-ethical but I still quite enjoyed it.
An interesting thing in here is how women were treated before. Women couldn't be scientists or anything similar to that, the only work they could do was give birth to children and sew or something like that. I think that's pretty bad and whilst knowing that women nowadays are not really on the same level as men, before (like in ancient Rome or Greece for example) they were treated even worse.
I am not a fan of love triangles and I had quite a problem with this one. At first, I really liked Edward. I didn't like Montgomery but I knew she would end up being with him because, from the beginning, something was off with Edward. And in the end, my assumptions turned out to be right! (Though I still don't like Montgomery)
So many plot-twists in this book, especially in the end. I didn't expect any of those things and I was quite surprised.
Also, I hated Dr. Moreau from the beginning and the fact that he treated Juliet as an experiment from the moment she was born was just so cruel and sad to me. It really broke my heart.
I really wasn't going to read the sequel until the very end and then I saw how it all turned out and I just want to know what's gonna happen. So, yeah, I'm probably reading a sequel!
---
The Madman's Daughter: http://www.bookdepository.com/Madmans-Daughter-Megan-Shepherd/9780062128034