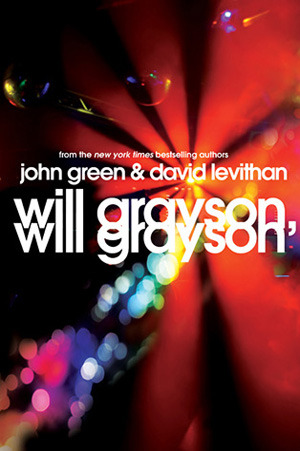 ---
3/5 stars
---
Goodreads description: Will Grayson meets Will Grayson. One cold night, in a most unlikely corner of Chicago, two strangers are about to cross paths. From that moment on, their world will collide and lives intertwine.
It's not that far from Evanston to Naperville, but Chicago suburbanites Will Grayson and Will Grayson might as well live on different planets. When fate delivers them both to the same surprising crossroads, the Will Graysons find their lives overlapping and hurtling in new and unexpected directions. With a push from friends new and old – including the massive, and massively fabulous, Tiny Cooper, offensive lineman and musical theater auteur extraordinaire – Will and Will begin building toward respective romantic turns-of-heart and the epic production of history's most awesome high school musical.
---
This was pretty funny.
I searched for a book with gay elements because I'm in a mood for gay romance these days and I can't seem to find a good book, unfortunately (please recommend me something in the comments!!!). And then I realized I haven't yet read Will Grayson, Will Grayson.
This book has been on my radar for so long because it seems fantastic. When I read it, though, I realized I expected a bit more from it. I love both John Green and David Levithan but this book could've been better.
The depressed Will Grayson was a bit whiny to me and although he had a rough life, I didn't like him that much. I liked the other Will much more.
This book was both boring and exciting in the same time and I don't even know how's that possible. I wanted to know what would happen but in the same time, I wanted to go to sleep or do something else.
This is definitely not one of my favorite John Green books.
I also didn't like Tiny a lot. He wasn't a very good friend to me (I had a friend like him and I'm glad to say we're not friends anymore). His musical was hilarious but I just didn't like him.
Also, I freaking NEEDED for Will Grayson and Will Grayson to be together. That freaking let me down the most. I expected them to fall in love from the beginning but that never happened. They didn't even get to know each other.
All in one, a funny read but definitely not something I would re-read.
---
Will Grayson, Will Grayson: http://www.bookdepository.com/Will-Grayson-Will-Grayson-John-Green/9780141346113