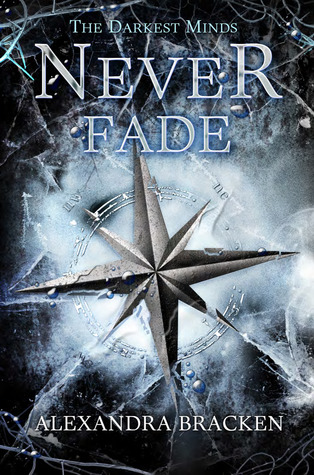 ---
*SPOILER ALERT* If you haven't read this book and don't want to be spoiled, please don't read this review.
---
4 / 5 stars
---
Goodreads description: Ruby never asked for the abilities that almost cost her her life. Now she must call upon them on a daily basis, leading dangerous missions to bring down a corrupt government and breaking into the minds of her enemies. Other kids in the Children's League call Ruby "Leader", but she knows what she really is: a monster.
When Ruby is entrusted with an explosive secret, she must embark on her most dangerous mission yet: leaving the Children's League behind. Crucial information about the disease that killed most of America's children—and turned Ruby and the others who lived into feared and hated outcasts—has survived every attempt to destroy it. But the truth is only saved in one place: a flashdrive in the hands of Liam Stewart, the boy Ruby once believed was her future—and who now wouldn't recognize her.
As Ruby sets out across a desperate, lawless country to find Liam—and answers about the catastrophe that has ripped both her life and America apart—she is torn between old friends and the promise she made to serve the League. Ruby will do anything to protect the people she loves. But what if winning the war means losing herself?
---
There is a huge problem about sequels and that is they're usually not as good as the first book. I say usually because there are some sequels that are awesome and I love them more than the first book. But mostly, I feel disappointed when I read them because they don't match the greatness of the first book.
I had a problem with this book, too. Even though it had it's awesome parts, I didn't enjoy it as much as I did The Darkest Minds. I don't know why but some of the parts were very boring and I feel that the same things kept repeating and repeating.
I don't hate it, though because it still had its good parts. Romance for example but there should've been more of that stuff (I'm a sucker for good romance, just sayin').
It did end with a huge cliff-hanger and that makes me want to read the third book which I will, soon enough.
As I said, this was a bit boring and I found myself skipping paragraphs while I was thinking about some other stuff and I found myself in the middle of the chapter, not knowing what actually happened.
The second half of the book was sooo much better than the first one and it had me hooked. It was so heart-breaking and I couldn't stop reading it so don't give up if you find the first half boring because there will be a lot of huge things happening in the second half.
Very well written book and definitely something that will instantly make you want to read the next book in the series. Action packed and emotional book but all in one, nice.
---
Never Fade: http://www.bookdepository.com/Never-Fade-Alexandr-Bracken/9781423159339?ref=grid-view