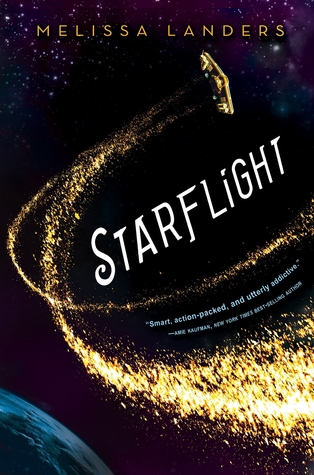 ---
4 / 5 stars
---
Goodreads description: Life in the outer realm is a lawless, dirty, hard existence, and Solara Brooks is hungry for it. Just out of the orphanage, she needs a fresh start in a place where nobody cares about the engine grease beneath her fingernails or the felony tattoos across her knuckles. She's so desperate to reach the realm that she's willing to indenture herself to Doran Spaulding, the rich and popular quarterback who made her life miserable all through high school, in exchange for passage aboard the spaceliner Zenith.
When a twist of fate lands them instead on the Banshee, a vessel of dubious repute, Doran learns he's been framed on Earth for conspiracy. As he pursues a set of mysterious coordinates rumored to hold the key to clearing his name, he and Solara must get past their enmity to work together and evade those out for their arrest. Life on the Banshee may be tumultuous, but as Solara and Doran are forced to question everything they once believed about their world—and each other—the ship becomes home, and the eccentric crew family. But what Solara and Doran discover on the mysterious Planet X has the power to not only alter their lives, but the existence of everyone in the universe…
---
This was a fun book for sure.
When I first found out about this I was sure I would love it because it seemed to me as one of those books that I liked to read when I was younger and that's because it was so light. Not life changing book but a fun book that will not leave you bored. That was exactly what this book was.
At first I must confess it was a bit boring. It started out the same as every young adult book and I was just so bored with it. I took a pause from it and I was sure I would give it up. Thank gosh I picked it up again and gave it a second chance because it was a pretty good book.
I liked it mostly because it's about one of my favorite book subjects: love to hate relationships! It may seem a lil' bit weird to you but I'm a sucker for those. I used to be soo ashamed because of that but I don't even care anymore. We're all different.
Love to hate was visible here and I think that it went a bit too quick. In my opinion it the relationship should have slowly worked from love to hate because that seems more realistic. I can't say that I didn't like the romance here, though. I loved it!
I loved all of the characters here especially the ship captain (I forgot his name, sorry lol) but I wanted to see more of Cassia and Kane. But, I just found out the second book in this series, Starfall is about two of them. Yay!
Lately I've really been into fantasy and science fiction and I also liked that part of the book.
All in one, a really quick and light read. Perfect for romance and YA lovers (especially if you're also a sci-fi fan).
---
Starflight: http://www.bookdepository.com/Starflight-Meliss-Landers/9781484723241?ref=grid-view
---